By David Tuller, DrPH
Below is an exchange between members of the Australian ME/CFS community and Professor Michael Sharpe. The open letter from patients and advocates was prompted by a tweet this week from Professor Sharpe that many considered offensive. He has since deleted it. This post includes the initial tweet as well as the open letter and Professor Sharpe's response.
**********
On November 3, Professor Michael Sharpe engaged in the following Twitter exchange: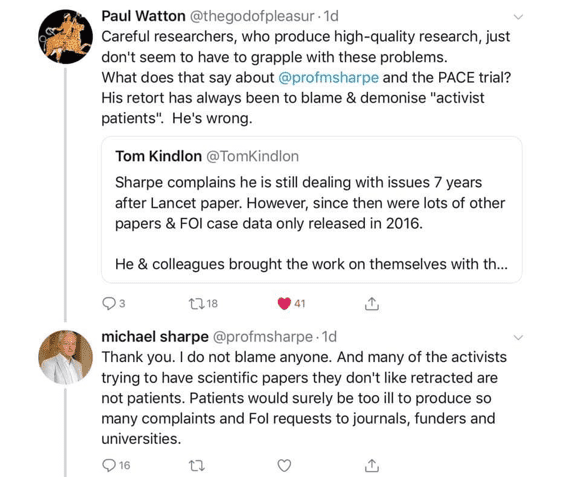 On November 6, members of the Australian ME/ CFS Community sent Professor Sharpe an open letter expressing their concerns about his tweet. He responded the following day, noting that the tweet had not referenced anyone in particular but that he would delete it "given your feeling of offence, which was not intended." His full response is included after the open letter.
*****
Dear Professor Sharpe
Reference: Your tweet of November 3 that: "…many of the activists trying to have scientific papers they don't like retracted are not patients. Patients would surely be too ill to produce so many complaints and FOI requests to journals, funders and universities."
As members of the Australian ME community and their families, many of whom would also identify as activists, we are writing to you in support of a fellow Australian patient, Alem Matthees. This will also be posted as an open letter.
Your tweet makes reference to the work of Alem Matthees, who was successful in his FOI request in the release of data for the PACE trial.
We feel compelled to take issue with your contention that patients could not be producing complaints and FOI requests, as they would be too ill. It is disingenuous and disrespectful to patients and their families, especially to Tom Kindlon and the late Robert Courtney, whose immense contributions despite severe illness we also acknowledge.
Our concern here is for the welfare of Alem Matthees and his family in particular, as well as for the many extremely ill patients who have bravely struggled and risked what is left of their health in order to improve the lot of those living with ME.
We do not seek discussion or explanation. We believe you are aware of the desperate state of health Alem Matthees is enduring. He became completely bedridden in 2016 after submitting the FOI. We simply ask that you acknowledge the deep distress caused by your dismissal of his illness and his heroic efforts in spite of it. We also appeal to your humanity in hoping for an apology.
As Alem Matthee's mother and full time carer, Helen, has commented on reading your tweet: "I would never mention this to Alem. It would break his heart and mine is already broken when I see my son struggle for survival."
We would be happy to pass on an apology to Alem's mother.
Yours sincerely,
Members of the Australian ME/CFS Community
107 Members of the Australian ME/CFS Community (six signatures were added after the letter had already been sent to Professor Sharpe):
Alem Matthees' family:
Helen Donovan – Mother and full time nurse to Alem – Perth WA
Mya Matthees – Alem's sister – Sydney NSW
Jim Donovan – Alem's stepfather – Perth WA
Norm Matthees – Alem's father – Perth WA
Patricia Matthees – Alem's stepmother – Perth WA
Edith Wisniewski – Alem's grandmother – Perth WA
Krys Nicholls – Alem's aunty – Perth WA
Alex Wisniewski – Alem's uncle – WA
*****
Susanna Agardy – Melbourne VIC
Mark Anderson
Hilary Anema
Luke Anderson
Sally Andrews
Di Arton – Melbourne – VIC
Christina Gough Barbara – Orange NSW
Jade Barclay – Sydney NSW
Meredith Beale – Brisbane QLD
Marilyn Black – Melbourne VIC
Brittany BK
Julia Bond – Albury NSW
Alex Bradley – VIC
Andrew James Bretherton – VIC
Campbell J Brice
Claire Campbell – SA
Deb Caroll – ACT
Sarah Therese Cartwright
Michael Chainey
Naomi Chainey – VIC
Em Chau – VIC
Jackie Carruthers
Alison Bruhn Clarke – QLD
Sally Coughlan
Penelope Del Fante – Melbourne VIC
John Engel
Elizabeth Edwards
Simon Del Favero – Sydney NSW
Kristy Doggett
Amanda Francie
Nelly Evans
Stella Geez
Helen Gillet
Elsa Gingold
Michelle Goldsworthy – QLD
Claire Gordon – NSW
Iain Gunga-Din – @BenMcNevis
Susan Fairlie Hall – Perth WA
Natalie Hastie
Adinas Henry – Perth WA
Fiona Hime – Sydney NSW
Claudia Heath – Sydney NSW
Sam Heath – Sydney NSW
Kate Herbert – TAS
Ashley Hinds
Simone Eyssens – Melbourne VIC
Sally James – Sydney NSW
Clare Jamieson
Mark Jensen
Wendy Jones
Joy Kelly NSW
Anna Kerr – VIC
Di Kirk
Raine Kornfield
Lake
E Lintunen
Mignon Lurch
Alex Lubansky – Melbourne VIC
Tamara Martin – Sydney NSW
Sandra Mayor – NSW
Peter Mc Clusky
Jenny Meagher – Melbourne VIC
Penelope Jane McMillon – SA
Nicholas Mole
Shiloh Moore
Tina Palladinetti -Sydney NSW
Kellie Phillips – QLD
Chris Pippin – Sydney NSW
Jess Pippin – Sydney NSW
Paul Pippin – Sydney NSW
Karla Pops
Leone Potgieter
Jude Rangitaawa – Melbourne VIC
Anita Roddam
Dorothy Scown
Frances Sedgewick
Litia Silivale – Brisbane QLD
Amity Slocke – Newcastle NSW
Melissa Stainwald – QLD
Sarah Stanton
Kristin Stempf De Vargas
Dee Sunyata
Carla Tee
Jen Temm – Sydney NSW
Michelle Lynette Verall
Adrien Verall
Amy Ward
Shannon Ward
Kate Webb
Gillian Wedding – SA
Ian E Wheeler
Meredith Whitford
Rebecca Lee Williams
Robyn Williams – QLD
Sharon Williams – NSW
Jacqueline Wilson – WA
Kim Wilson
Adrienne Wooding – NSW
Leigh Zhu
Lisa Ziazan
*****
Professor Michael Sharpe's response:
Thank you for your email.
I had no wish to upset or disrespect anyone with that or indeed any other tweet.
However I think you should please read my tweet carefully. It does not reference any individual. It just makes the point in response to the suggestion that activists are all patients, that many activists, by their own report, are not patients. It also simply states that it would be surprising if very ill people alone, were able to produce the huge volume of complaints and FoI request that deluge the relevant institutions. It did not say that some patients don't struggle to do this. I have not dismissed anyone's illness.
But given your feeling of offence, which was not intended, I am happy to delete the tweet.
Kind regards
Michael Sharpe'